Getting organic exposure is the best way to acquire free organic traffic that's already searching for things you have to offer.
You can write the best content in the world, but it's your marketing efforts that will determine the exposure of your content.
But how do you get your website ranked? It's not only enough to optimize your website for the search engine – but you should also spend time optimizing your blog posts for search engines.
And if you've tried optimizing your blog posts for search engines, you'd know that post optimization can take as much time as writing (if not more)!
And if you're looking for a "life-hack" that will help you get your both website and posts optimized in less than 10 minutes – you're looking for a site SEO checklist!
What is an SEO Checklist and What are its Benefits?
SEO checklist is exactly what it sounds like. It's a checklist that guides you step-by-step through all SEO optimizations you have to do, both on your website and on your posts.
Some of the biggest guys in the SEO industry who run their own websites or blogs have their own SEO checklist that helps them throughout the day.
If it wasn't for the list, they'd be spending a lot more time optimizing everything by memory. And after the optimization, it would take time for even an experienced blogger or SEO person to double-check everything.
With so many options out there – it'd be hard not to miss and as we know, even just a couple of settings can play a huge role in the rankings.
Therefore, not only SEO checklist can help ensure that you've optimized everything there is in a timely manner – but it can also teach you how to optimize a couple of things you had no idea about.
In the long run, SEO checklist can help you:
See the bigger picture of what needs to be optimized to rank a site/post
Track what you have and haven't done before
Never miss important stuff again
Follow super-detailed step-by-step process laid out in front of you
Therefore, instead of overthinking what needs to be done or double-checking if you've optimized anything – you'll be able to follow a list and tick everything as you optimize every single thing.
Once you follow the site SEO checklist a couple of times, you'll be able to have the best SEO score your site can achieve, but also know that you've optimized your posts the best you can and that there's nothing you've missed.
Who is the site SEO Checklist for?
Site SEO checklist is for everyone! If you're only starting out, it's important to learn the ropes of search engine optimization so you can start optimizing your website from the start. It's always easier to optimize your website from start (even before it's indexed in search engines) and this will give you the best chance to rank well starting from your first posts.
When you have dozens or even a hundred or more posts, it'll be time consuming to go back to each one of the posts and double-check if you've optimized everything accordingly.
Therefore, if you're only starting out, we'd recommend taking the site SEO checklist seriously as it won't only guide you, but it will also teach you a lot of new, simple but important things.
And of course, who doesn't like to be right on track and experience the best ranking results for all the hard work they've put into the website, right?
If you're an experienced marketer or blogger, you could take advantage of the SEO checklist too. It will give you peace of mind knowing that you've done everything, it will help you optimize your whole website and every one of your new posts in less time.
And if you're a freelancer who's working with clients – whether you're doing SEO or you're writing content, knowing things that are this important and related to content will help you improve the value you provide to your clients, hence having the ability to increase your rates.
Best SEOBuddy Site SEO Checklist Features
We believe that SEOBuddy offers the best site SEO checklist on the market. Why? It's got everything you would need, and not only it includes one SEO checklist, but it also includes a lot of material that basically teaches you everything you need to know about SEO, but also the correlation between the SEO and the website.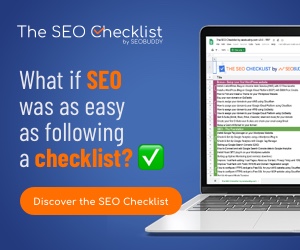 When it comes down to the SEO checklist itself – SEOBuddy's list is the most comprehensive list on the market. It includes 102 points and not only you can access it quickly via the Google Sheet, but the checklist also has its own web app.
The web app offers a great visual perspective into the checklist, so even though there are 102 points – you'll never feel lost in the list.
Most of the points are simple and everyone will know how to do them, but the checklist also touches on a few advanced settings. However, that shouldn't worry you.
Along with the 102-point site SEO checklist, SEOBuddy also provides a great 42 step-by-step process docs that will teach you things you might not know.
On top of that, you'll also get a 62 page eBook (in a .PDF format) that is ideal for everyone – whether you know nothing about SEO or if you believe you've mastered SEO.
With all of this, you'll improve your organization, but to really see the effect, SEOBuddy also provides a 52-week content planning calendar method. So if you're a perfectionist who likes to plan and run a tight ship – this is everything you'll need.
And if you always like to double-check things just for the sake of correctness – the last Google sheet document you will receive is a quick 50-point content distribution checklist that will help you double-check and ensure your posts are ready for publishing in less than 10 minutes.
SEOBuddy Pricing
So, considering everything you get, you would think that SEOBuddy is really expensive, right?
Wrong!
The whole SEOBuddy site SEO checklist will only cost you $97 USD using the discount available on this page.
Otherwise, the SEOBuddy site SEO checklist will cost you just over $300.
In the SEO site checklist mentioned earlier, here's everything you'll get included in the price:
The Foundation
User Experience
Content
Performance
On-Page SEO
Off-Page SEO
Technical SEO
Local SEO
This is only what you'll find within SEOBuddy's SEO checklist, but you shouldn't forget that there's also additional material that includes:
42 step-by-step process documents
62-page eBook
52-week content planning calendar method
50-point content distribution checklist
Considering the number of training material that is included, this is not a training course and yet it is advertised as a checklist.
When you take other SEO checklists into consideration, not only you will get a lot more value for the price with SEOBuddy's checklist – but you'll also get a prettier interface as the SEO checklist has its own web app.
Is SEOBuddy Site Checklist Worth the Price?
If we only consider everything that is included in the SEOBuddy's site SEO checklist – the checklist is more than worth the asking price.
It's one of the most comprehensive SEO checklists you can find on the market, but it's also the most affordable one. Even though it's not advertised as a training material – along with the SEO checklist, you'll get a lot of other material that only increases the value of the whole package.
Whether you're only starting out or you're looking for a quicker and sleeker way to handle both on-page and off-page SEO optimization, SEOBuddy has everything you need.
While many other SEO checklists come in a very simple form of an Excel table, SEOBuddy's SEO checklist comes in two formats (Google Sheet and web app for improved aesthetics).
The SEO checklist offers more than just on-page optimization as it categorized into 6 different categories that cover everything from on-page, off-page, and content optimization for various results.
As if it wasn't enough – SEOBuddy improved the deal by providing 4 bonuses:
SEO checklist available in the Trello board (along with Google Sheets and web app)
52-week content planning calendar method that's also available on Trello board
One-month access to SEOBuddy's start-up plan
Content distribution checklist
If you're still unsure whether SEOBuddy's SEO checklist will help your site make any progress, you should check out the testimonials. By implementing SEO checklist for 4 months straight, a website that had about 2,000 visitors increased to 10,000 visitors per month.
Conclusion
There is no better road map on the market that will fit as many different websites and marketing strategies. Considering the price with all additional material + bonuses – we believe that SEOBuddy's site SEO checklist is worth more than only $69.
Whether you're only starting out or you're looking to tighten up the SEO optimization on your website, this SEO checklist is everything you will need to improve the rankings, update older posts, or optimize the new posts – but even do proper off-page optimization that will lead to even more results.
What is your favorite additional material included with the site SEO checklist?
I would like to hear your thoughts about the SEOBuddy — SEO Checklist.  How well have I covered the material in this review? Was it helpful enough for you to make an informed decision about purchasing the checklist? Don't forget about the special discount of 25%. Just click the SEOBUDDY SEO CHECKLIST – ?CTA? or either of the banners above. You may aslo share your questions and comments in the section below and I will be happy to respond.
All the best,
Barbara
Founder/Creator: Living On Lean Means ?